Research shows that global climate change has reduced the ability to supply food. However, in most cases, these studies have neglected the interaction between elevated temperature and air pollution, especially ozone pollution, the impact of crop destruction. A new study by the Massachusetts Institute of Technology shows that the impact of climate may be significant, and policy makers need to consider both the issue of climate warming and air pollution.
The study evaluated four major global food crops: rice, wheat, corn and soybeans. They account for more than half of the world's human calories burned. Due to population growth, food consumption is expected to increase by approximately 50% by 2050. Therefore, it is necessary to increase production by improving crops, improving farming methods, and expanding farmland. This prediction will vary greatly from region to region and crops will also differ. For example, wheat is very sensitive to ozone, and heat has a greater impact on corn. In general, under the same conditions for all other factors, by 2050 climate warming may reduce global crop production by about 10%. The impact of ozone pollution is more complicated, but its impact is very strong. At the same time, ozone pollution is also very difficult to identify because it is similar to other plant diseases such as discoloration and spotting of leaves.
Although heat and ozone can damage plants, various factors interact. For example, higher temperatures significantly increase ozone production, and organics and nitrogen oxides are more volatile in sunlight. Because of these interactions, the research team found that 46% of soybean crops previously attributed to thermal effects were actually caused by increased ozone. Pollution control measures can slow down the impact of production, and global output declines from the projected 15% to 9% due to emissions reductions.
Clean energy does not emit any greenhouse gas or conventional air pollutants. For example, the increase in the use of wind energy and solar energy will be beneficial to the safety of global food because they do not participate in any climate change or increase the concentration of ozone on the earth's surface.

Goodsense forklift new generation electric counter balance forklift advantages:
-High efficiency driving motor
-Multi-functions instrument- new Curtis display
-Front dual driving motors
-Anti-slip rubber floor mat
-Solid tires
-Emergency disconnect button
-LED headlight
-Rear combination lights
-Panoramic rear view mirror
-Wide vision mast
-Adjustable steering column
-Full electric controlled travelling, lifting and steering
-Horn and reversing buzzer
-Tool box and file folder
-CAN-BUS system
-Battery lateral extraction
-Low noise gear pump
-Full hydraulic steering
-Full suspension seat with belt and switch
-Operator presence system
-Rear handle with horn
General

Model

FB16S

FB18S

FB20S

Power Type

Electric

Electric

Electric

Load Capacity

kg

1600

1800

2000

Load centre

mm

500

500

500

Tyre

Tyre

Solid Tyre

Solid Tyre

Solid Tyre

Front Tyre

18×7-8

18×7-8

18×7-8

Rear Tyre

16×6-8

16×6-8

16×6-8

Overall Dimension

Lift Height

mm

3000

3000

3000

Fork Size

L×W×T

mm

920×120×35

920×120×35

1070×120×40

Mast Tilt Angle

F/R

.

5/7

5/7

5/7

Mast Lowered Height

mm

2010

2010

2010

Mast Extended Height(with backrest)

mm

3940

3940

3940

Length to face of fork(Without fork)

mm

2090

2090

2090

Overall Width

mm

1100

1100

1100

Overhead Guard Height

mm

2055

2055

2055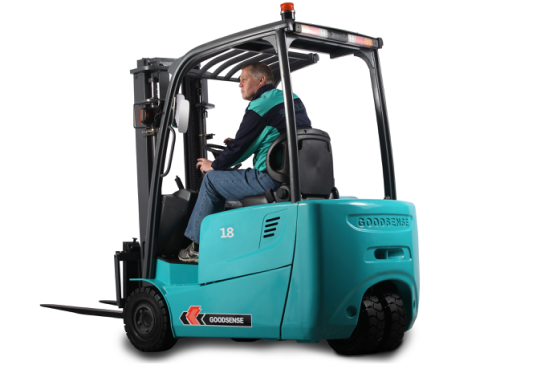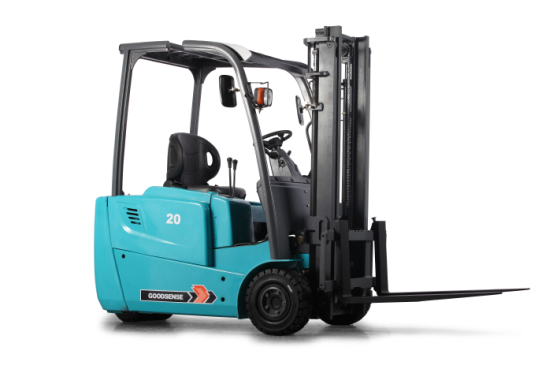 Application Area:
1.Warehouse
2.Port
3.Factory
4.Distribution Center
5.Logistics
If you have any other questions,please contact us directly.Our forklift are all with high quality,and you can choose any other engine to equip.It can be produced according to your idea.And we invite you to visit our factory.
3-Wheel Electric Forklift,Electric Forklift,3 Wheel Forklift,Electric Forklift Truck
ZHEJIANG GOODSENSE FORKLIFT CO.,LTD , http://www.dieselforklift.nl