BYD shares announced the first half performance forecast, said net profit is expected to increase by 3000%. In addition to BYD's rocket speed, a number of vehicle companies such as Changan Automobile, Haima Motor, Great Wall Motor, and JAC are expected to have net profit growth of 60% or more in the first half of the year. FAW Car also succeeded in turning losses into profits, but the listed company of the same group, FAW Xiali, drastically collapsed. It is expected that net profit in the first half of the year will fall by 78%-100%.
The Great Wall people who are looking forward to bonuses should also laugh. Great Wall Motor's amazing ability to absorb gold in the first half of the year and net profit is expected to reach 4.088 billion yuan. Although the sales volume is less than 1/3 of the total of Changan Automobile and BYD, the net profit created by the latter is the sum of the net profit of the latter. More than 2 times.
New products have contributed to sales

BYD expects net profit for the first half of the year to reach 400-500 million yuan, an increase of 2358.51% -2973.14% year-on-year. One of the reasons for the rapid growth is the year-on-year increase in vehicle sales within the group. It is reported that the sales growth of BYD autos is expected to reach around 10%-30% this year. The monthly sales of SpeedRider are currently maintained at more than 9,000 vehicles per month. Si Rui is climbing uphill and is expected to become a new force.
In the first half of the year, Changan Automobile expects to achieve a profit of 1.26 billion yuan to 1.36 billion yuan, an increase of 121.04% to 138.58% over the same period of the previous year. The reason for the surge in performance was that Changan brand cars increased by 81% year-on-year in the first half of the year, and Changan Ford Motor Co.'s sales in the first half of the year increased by 63% year-on-year, contributing to a substantial increase in investment income. In-depth analysis will find that the Changan Automobile's performance is also a result of new product pull. Last year, Yahoo and CS35, which were listed on average, could contribute 7,000 cars and 5,000 cars per month to the Changan sedan. This year's new Mavericks and Wingbusters brought Changan Ford an increase of 60,000 vehicles in the first half of the year.
In the autonomous 2.0 era, hippocampus also achieved a good harvest in net profit due to new product launches and product mix adjustments. Haima Motors expects its net profit for the first half of this year to increase by 80%-130%, which is related to the increase in sales brought by the Haima M3 after its listing this year. The hippocampus S7 listed in June will continue to bring in increments in the second half of the year.
Ideas adjustment, emphasis on improving gross profit margin

Listed car companies are also changing their thinking. While increasing sales, they are also more concerned about the increase in gross profit margin. They need to sell well and earn more. Jianghuai Automobile expects its profit for the first half of the year to increase by about 60% year-on-year, but its average sales growth in the first half of the year is only 21%, and its profit growth is three times that of sales growth. This is related to the fact that last year it started to put forward "focusing on efficiency" and focusing on internal optimization to improve profitability. On the basis of ensuring profits, Refine's products began to gradually strive to maximize sales volume. In the first half of the year, refinery MPV increased by 7.2%. The current monthly sales volume of urban SUV Refine Wind S5 can also reach around 3,000 units. The Yueyue product line starts on the basis of guaranteed scale. As much as possible to take into account profit contribution.
Also in the performance forecast, it was pointed out that the increase in net profit was due to Great Wall Motor's increase in gross profit margin. In the first half of the year, Great Wall Motor's net profit increased by 73.70% to reach 4.088 billion yuan. Judging from the sales volume in the first half of the year, Great Wall Motor is only 1/3 of Changan Automobile, but its net profit is more than three times that of Changan Automobile, which is 8-10 times that of BYD, whose sales volume is about 70%. The increase in gross profit margin of Great Wall Motor is mainly due to the optimization of product structure. The proportion of sales of SUVs with stronger profitability has increased from 39.9% last year to 51.0% this year. Together with H6, the company has gradually promoted its own 1.5T engine, which has further improved its profitability. Great Wall products' firm prices at the terminal also ensure profitability.
The internal performance of FAW Group suffered serious differentiation. In the first half of the year, FAW Car had a 15.7% increase in sales volume. In addition, new products with high gross margins, Red Flag H7 and Pentium X80, were introduced. Benefiting from the change in the exchange rate of the Japanese yen, the cost of imported parts and components of FAW Mazda also decreased. In addition, FAW Mazda sold smoothly in the first half of the year, and its sales volume increased by 4% year-on-year. It also turned losses into losses for FAW Cars in the first half of the year. Profits reached 550 million - 7.5 billion yuan laid the foundation.
However, the same FAW Group's other listed car company - FAW Xiali has lived too tightly, can also make more than 90 million yuan in the first half of last year, this year in the same period in the profit given only 10,000 -20 million Yuan's estimate is 78%-100% lower than the same period of last year. The reason is that unlike FAW Mazda's sales growth, FAW Toyota's shareholding in FAW Toyota's production and sales during the first half of the year was still lower than the same period of last year, which caused the investment income of FAW Xiali to decrease compared with the same period of last year. In addition, unlike Changan Sedan, Haima Motor, and Great Wall Motor that have initially completed product structure adjustments, FAW Xiali began to adjust its product structure and shut down some of the old Xiali products, which caused some damage to the production and sales in the first half of the year.
The performance of some listed car companies in the first half of 2013

Corporate net profit increased year-on-year

Chang'an Automobile 1.26 billion-13.6 billion yuan 121.04%-138.58%
Seahorse Motors: 106 million-1.35 billion yuan 80%-130%
BYD 400-500 million yuan 2358.51%-2973.14%
Great Wall Motors 4.088 billion yuan 73.70%
Jianghuai automobile about 60% empty
FAW Cars 550 million - 750 million yuan loss in the same period last year 61.42 million yuan FAW Xiali 10,000 - 20 million yuan 78% to -100%
Jiangling Motors 9.37.5 billion yuan 11.43%
Oil Seal is a mechanical components that used to seal oil (oil is the most common transmission system liquid material), It`s isolated the lubricated components with other components, not let the lubricate oil leakage.

Oil Seal is generally divided into single-type and assembly type, assembly type is the skeleton and lip material can be free combination, generally used for special oil seals.

Oil seal can have different names, customary general rotary axis lip seal called oil seal, the static seal and dynamic seal (general reciprocating motion) was called seal parts.

The representative form of oil seal is TC type, is a double lips oil seal with a fully rubber coated and garter spring, generally speaking oil seal refers to TC skeleton oil seal, skeleton oil seal diagram see Figure: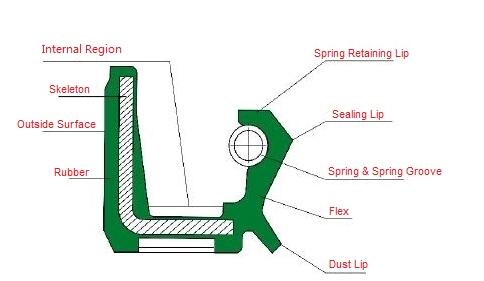 Oil seal common materials are: nitrile rubber, fluorine rubber, silicon rubber, acrylic rubber, polyurethane, PTFE and so on. When selecting oil seal material, consider the compatibility of material and working medium, the adaptability of operating temperature range, and the follow ability when the lip follow high-speed rotating shaft..
Generally when the oil seal is working ,its lips area temperature is higher 20-50℃ than working medium. Make sure you noted this when you select the oil seal products.
Oil seal operating range is related to its material:
NBR: -40 to 120℃,
ACM: -30~180℃
FPM: -25~300℃
Application:
Any operate case which have liquid lubricants inside and need to connect with outside also, the connect place is required of oil seals.
Engine: crankshaft - crankshaft front and rear oil seal, valve - valve oil seal (engine repair kit o-ring) (distributor oil seal, pump oil seal, balance shaft oil seal, oil pump seal ...);
Camshaft - camshaft oil seal ; Transmission: transmission front oil seal, transmission rear oil seal, transmission shift oil seal (transmission repair kits o-ring)
Sub actuator front oil seal, Sub actuator rear oil seal,
rear axle: axle oil seal
Rear Wheel Oil Seal
Front Wheel Oil Seal
Directional Oil Seal (Directional Machine Repair Kit o - ring)
Directional Booster Oil Seal (Front Axle Oil Seal).
Air compressor crankshaft oil seal
Oil Seal
Oil Seal,Silicone Rubber Oil Seal,TC Oil Seal,Valve Stem Oil Seal
HAFID INTERNATIONAL LIMITED , http://www.hapgasket.com