On July 24th, 2015, the Reza Heavy Machine Cup "I am a master" challenge and the first engineering machinery industry operator skill competition was officially opened in Jinan. At the same time, the upgraded Renesas heavy machine L9 series products – pump trucks, mixer trucks and cranes – shine with a new image of "more reliable, more efficient, more fuel-efficient, safer and more comfortable".
The Reza Heavy Machinery L9 series integrates German-American technology, combines German top-loading technology, Foton Daimler chassis technology and the world's top Cummins engine. Through the world's advanced technologies such as "integrated R&D, integrated manufacturing", the engine, The chassis and the top are "seamlessly docked". Reza Heavy Machinery L9 series successfully achieved product reliability increase of 20%, efficiency increased by 30%, energy saving 12% - 20%, promoted to a new generation of profitable tools for the construction machinery industry. Reza Heavy Machinery L9 series products integrate international leading technology and product quality, and strive to achieve classic works.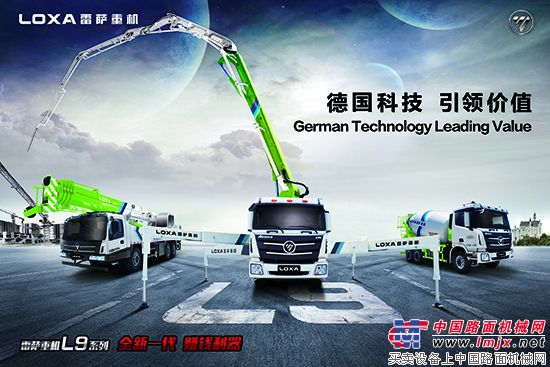 Reza Heavy Machine L9 Series Family Portrait
Innovative German technology to achieve quality upgrade
With the increasing demand for energy saving and environmental protection, Reza Heavy Machinery attaches great importance to the R&D and manufacturing of energy-saving and environmentally friendly products. The L9 pump truck has successfully achieved 4 breakthroughs and 21 technical upgrades. With the patented intelligent thermal management system, fuel consumption can be saved to the greatest extent. Improve combustion efficiency. Reza Heavy Machinery firmly believes that "details determine success or failure", applying energy-saving technology to all aspects of the product use process, by using engine adaptive pumping load energy-saving technology, idle car wash energy-saving technology, power system fuel-saving technology, so that pumping at work When the fuel consumption can be saved by 0.53 yuan / square, the fuel consumption of the whole vehicle can be saved 50,000 yuan / year (calculated by pumping 100,000 square meters per year); Resa heavy machine knows that the empty car has long been an invisible burden for users, for this reason, L9 series pump trucks increase the air travel efficiency by 50%; intelligent detection technology can save up to 48 hours/year for maintenance efficiency by 70%.
(Ressa heavy machine L9 pump car)
For a long time, users have generally suffered from the "low utilization rate of mixer trucks", which directly affects construction revenue. In this regard, the Reza heavy machine L9 series mixer adopts the industry leading mixing technology, the volume utilization rate is increased by 10%, the discharging speed is 2-3 minutes, the whole vehicle working efficiency is increased by 30%, the annual saving is 50 hours, and at least more is created every year. Wealth is 40,000 yuan. In fact, the Reza Heavy Machinery L9 series mixers successfully achieved 5 breakthroughs and 23 technical upgrades. In terms of energy saving and consumption reduction, the L9 series mixer truck is equipped with Cummins power system. It is integrated with the whole vehicle through light weight and low energy consumption design of the engine. It has good matching and low power loss. The overall fuel saving is 12%, and the fuel consumption is at least 22,800 yuan. /year (calculated by 50,000 kilometers per year).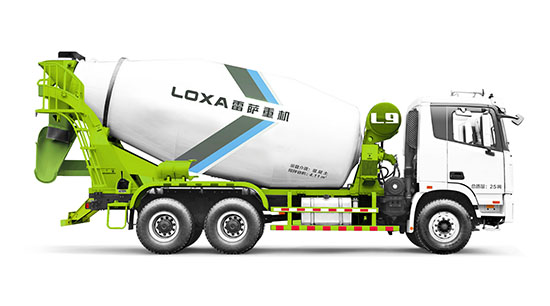 (Ressa Heavy Machine L9 Mixer)
Time is wealth in the construction process. Creating more wealth and achieving higher value for customers is the philosophy and pursuit of Reza Heavy Machinery. To this end, Reza Heavy Machinery L9 series cranes achieved 4 breakthroughs, 18 technical upgrades, using dual pump confluence technology, efficiency increased by 20%, saving 300 man-hours per year, can create wealth of 34,000 yuan for users (to work 1500 working hours per year) Computation); International leading dual-mode engine control technology, matching engine power adaptive matching energy-saving technology, load-sensing technology & high-pressure variable pump system, chassis power matching optimization technology, successfully achieve annual fuel consumption savings of more than 15%, create more wealth 2 Ten thousand yuan (calculated by working 1500 working hours per year).
The appearance of the Reza heavy machine L9 series was unanimously praised by the operator. Reza Heavy Machinery L9 series pump trucks and mixer trucks rationalize the wheelbase according to the square volume, and have strong anti-rollover force. The Reza heavy machine L9 series crane adopts full safety protection and 360° operation without blind angle visual monitoring technology. The coefficient is increased by 10%. The L9 crane achieved four major breakthroughs and 18 technical upgrades.

(Ressa Heavy Machine L9 Crane)
Butler service to solve worries
Over the years, Reza Heavy Machinery has been committed to serving customers with the concept of "full service creation and moving". Today, Reza Heavy Machinery has integrated service network with Foton Daimler and Foton Cummins, becoming the first manufacturer in the industry to open a chassis-integrated service network. The number of service stations has increased to more than 1,100, the service radius is accurate to 150 kilometers, more than 2,000 service engineers are on call 24 hours a day, and respond quickly within 3 minutes. Within 2 hours in the east and 4 hours in the west, service engineers can arrive at the scene; equipped with mobile 4S Service vehicles, spare parts are guaranteed for 24 hours, and no more than 48 hours arrive in remote areas. A series of digital displays is not only the embodiment of the strength of Reza's heavy machine service, but also implements this into specific actions to solve the worries for users. Reza Heavy Machinery does more than just do this for customers, pre-sales inspection, free start-up training, one-stop service, active inspection and maintenance, and other value-added services, further highlighting the value of Renesas heavy-duty "housekeeping service". In the era of meager profit, it effectively meets the needs of customers, surpasses expectations, and perfectly interprets high-end value models.
At the press conference, the Reza Heavy Machinery L9 series products were well received by users after they were unveiled. At the press conference, many customers showed strong purchasing intentions. It is widely said that L9 products are more suitable for construction needs. Such reliable, efficient, energy-saving, safe and comfortable products are undoubtedly a trustworthy helper.
It is reported that during the press conference, Foton Reza Heavy Machinery Co., Ltd. and Siyuan Fund cooperated hand in hand to contribute to the public welfare undertaking. Reza Heavy Machinery solemnly promises to donate 600 yuan for each product sold for the "Siyuan Education Immigration Program" public welfare project.
Renesas Heavy Machinery, the world's No. 1 sales vehicle for commercial vehicles, is committed to building China's most cost-effective, fast-return, and most technologically advanced construction machinery products. The technology horn has been blown. With industry-leading technology and technology, the Reza Heavy Machinery L9 series will surely become an epoch-making product that leads the upgrade direction. (This article is from Reza Heavy Machinery)
Casting products include series grinding balls, grinding segments, forged balls, rolled steel balls; series of High-Manganese Steel Wear-Resistant products; required for agricultural machinery and engineering machinery such as internal combustion engine cylinders, cylinder heads, gearbox housings, etc. Series products, etc.; coal machine middle plate, coal machine shovel plate groove, baffle groove gang, etc. required by coal mining machinery industry.

Steel Lost Foam Casting,High-Manganese Steel Wear-Resistant,Lost Foam Casting Mining Parts,Lost Foam Casting
A&M Manufacturing Co.Ltd. , https://www.am-casting.com