This year's apparel retail giant - Shimamura's brand shimala (Mengmeng) formally entered the Shanghai Long Scenic Plaza on April 13 to bring together popular fashion from Japan and popular fashion apparel to create convenience for consumers. The comfortable shopping environment brings a pleasant new shopping experience.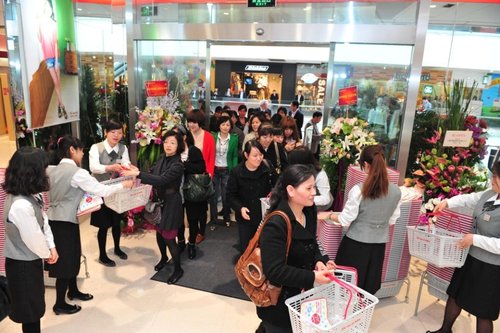 Japanese fashion brand shimala "Mengmeng" enters Shanghai
Japan's clothing retail giant - Shimamura's brand shimala (Mengmeng) officially entered the long scenic square in Shanghai on April 13th, bringing together fashion trends from Japan, all kinds of fashionable women's wear, and street fashion men's wear. To create a convenient and comfortable shopping environment for consumers while bringing a pleasant new shopping experience.
On the opening day of the opening of the first shop of China Mainland, Mengle (Shanghai) Trading Co., Ltd. hosted the "Symposium on the opening of China's No. 1 shop in Mainland China". Representatives of the president of the company Masaru Shimamura Nobuyoshi Co., Ltd. and the chairman of the board of directors of Hideyuki Kotobaki (Shanghai) Trading Co., Ltd. introduced the overview of Shimamura Co., Ltd. and Shiramura Co., Ltd.'s accessories.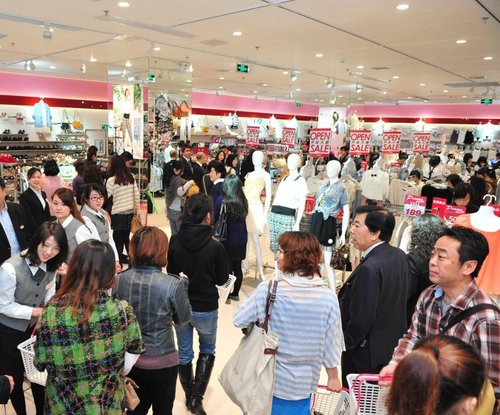 Japanese fashion brand Shila "Mengmeng" enters Shanghai's swarming customers
Shimamura Co., Ltd. was founded in 1953. It was successfully listed on the first section of the Tokyo Stock Exchange in 1991. Its sales ranks sixth in the industry and Japan ranks second. It is a clothing retail with unique vision and technology Chain companies now have more than 1,700 stores in Japan, and the "Smrome" brand in China's Taiwan region already has 34 stores. Yosaka Noboru's deputy director of the company was incorporated into Shimamura Co., Ltd. in March 1984 and has more than 20 years of background and experience in apparel retailing. At the meeting, the representative of the president of the Yenoi University will be introduced to the media. The brand of the Shimamura in Japan started from the clothing chain established in the suburbs and has now reached the prefectures and prefectures in the country and has become a well-known clothing brand in Japan. Most of the clothes sold in the stores are casual fashion women's wear, and children's wear and men's wear are also available. The business philosophy of Shimamura Co., Ltd. is to contribute to the improvement of consumer life and living culture through business activities.
One of the secrets of Shimamura's growth as one of the largest companies in Japan is to think about what customers want and to continue to develop affordable products that are both comfortable and stylish, and to provide convenience for consumers in everyday life. High quality and comfortable living atmosphere. Behind the success of Shimamura, an efficient product development team and a unique logistics system also contributed. Shimamura's brand products are known for their variety of products. In general, there are usually tens of thousands of products for consumers to purchase. The inventory management team conducts information processing through computers and conducts comprehensive and systematic management of the products. In addition, in order to realize fast and efficient product distribution, we have built a logistics center that operates independently, and strive to mechanize, systematically, and large-scalely distribute goods to stores located throughout the country. With high-quality popular products and a high degree of chain technology background, Shimamura entered the Chinese Taiwan market in 1997 and brought the same type of outskirts-type shops in Japan to Taiwan, making the "Smalleng" brand quickly available in Taiwan, China. By the end of 2011, the number of stores had reached 34. In 2011, Shanghai Mengle (Shanghai) Trading Co., Ltd. was established in Shanghai. With the opening of the first store in mainland China, shimala decorated Mengle brand officially entered the Chinese mainland.
Natural T/C Liner Knitted Working Glove with PVC Dots
String Knitted Working Gloves





Name

PVC dotted gloves

Weight

40--95g/pair

Material

cotton+polyester+PVC

Cuff

Any Color

Length

21-24cm

Brand

HMD Gloves

Knitting

10 /7 gauge

Cotton Color

bleached White or Natural White or others

Description

cotton knitted glove, White color,10gauge, PVC dots

Packing

12 Pairs/Dozen, 25 Dozen/CTN; 60 Dozen/ polywoven,4 polywoven bag or 1polywoven bag in compressed bag, compressed bag can save more space.

Load Capacity

About 31,000Dozen for a 40'HQ. Compressed packing can load more products

Application

Safety Work, Industrial work, Household work, Farm work

MOQ

2000 dozens

Delivery Time

15 days

Advantages

A.Supply excellent grip in dry conditions for safe and secure handing comfort.
B.With an extremely soft feeling and exceptional comfort, it can reduce hand fatigue.
C. It has good resistance to puncture and abrasion.
D.Autonomous production of cotton yarn makes competitive price and durable quality.
Working Gloves with Dots,Cotton Knitted Gloves,Rubber Working Gloves,Rubber Dots Cotton Knitted Gloves
Shijiazhuang Hongmeida Co., Ltd. , http://www.hmd-gloves.com